Epic Hike to Lapporten
11 / 12 / 19
Anybody who has spent any time in Abisko is aware of Lapporten (or in the Sami language it's Čuonjávággi) and for the people of Sweden they don't even need to have been to Abisko to be aware of it as it's one of Swedens most iconic views. The large U shape dominates the horizon to the South East of Abisko and is often in many of my favorite photographs of the region.
So you might ask why aren't there many pictures with Lapporten and aurora. There are two easy answers one is that Lapporten is to the South East and usually when we see aurora we are looking to the North. In all the winters I've worked in Abisko I've only seen aurora go over Lapporten a handful of times. The other reason is that Lapporten is about 12km from the village, so from all of the normal areas where you generally photograph the aurora if you use a wide angle lens, the mountains look tiny in the frame. It's a four hike so if you saw the aurora going to the South East it's not feasible that you are going to do that 12km hike with 500m of ascent in the dark to get there in time.
So last Saturday I though I'd go for a solo wild camp up at Lapporten. I had stuff to do during the day so packed my bag in the afternoon and had a good feeling about the hike so thought I'd take my full camera kit rather than just my light mirrorless kit. This is a big decision as it massively increases how much I have to carry.
So the kit list was;
Canon 5div 890 grams
Canon 24-70 f/2.8 L ii 805 grams
Canon 100-400 f/4-5.6 L ii 1700 grams (as it was in it's padded bag)
Sigma Art 14mm f/1.8 1170 grams
Benro GoPlus Travel Tripod plus B1 head 1700 grams
So with a couple of extra bits that's just under 7kg to what I'm carrying. Over 12 km and 500m of ascent it's quite a bit of weight. I'm guessing my backpack was rocking in at around 20kg with tent, sleeping bag etc...
So I set off at about 3:30 pm and started the walk. Its a fairly easy walk through beautiful mountain birch trees for the first half to Paddus and then the terrain changes and it you start going uphill and the trees disappear. There's a few bogs to navigate and one small river to cross. I was walking a little slower than normal as you do walking uphill with 20kg and I was conscious that I wanted to be there before the sun set so I only took phone pictures on the way up!
There is a lake in the middle of the Lapporten gap called Čuonjájávri which was where I was planning on camping. The area gets a lot of wind and is invariably choppy so was blown away when I get there to this view! I've never seen it like this before. As you can imagine any thought of finding an actual camping spot had vanished and I just got stuck into doing photography. Note the beam of light caused by the reflection of the sun off the left side the mountain.
Quite quickly the sun went behind the mountains on the other side of Abisko National Park but bizarrely the beam of light got stronger. Not quite sure how that could happen? If you think whilst looking at Lapporten the sun had been behind me and it had just dropped out of sight so how was that line of light visible?
You can probably sense on the above image I sense of rain approaching and it was rapidly! The mirror of the lake had completely disappeared too. So I quickly packed the camera kit away grabbed my rucksack and looked for a suitable camping spot. Easier said than done in this type of mountain terrain. I did find a spot a quickly put the tent up I could really feel the temperatures dropping rapidly. I had walked up wearing a t-shirt and of course, I'd got damp with sweat carrying 20kg.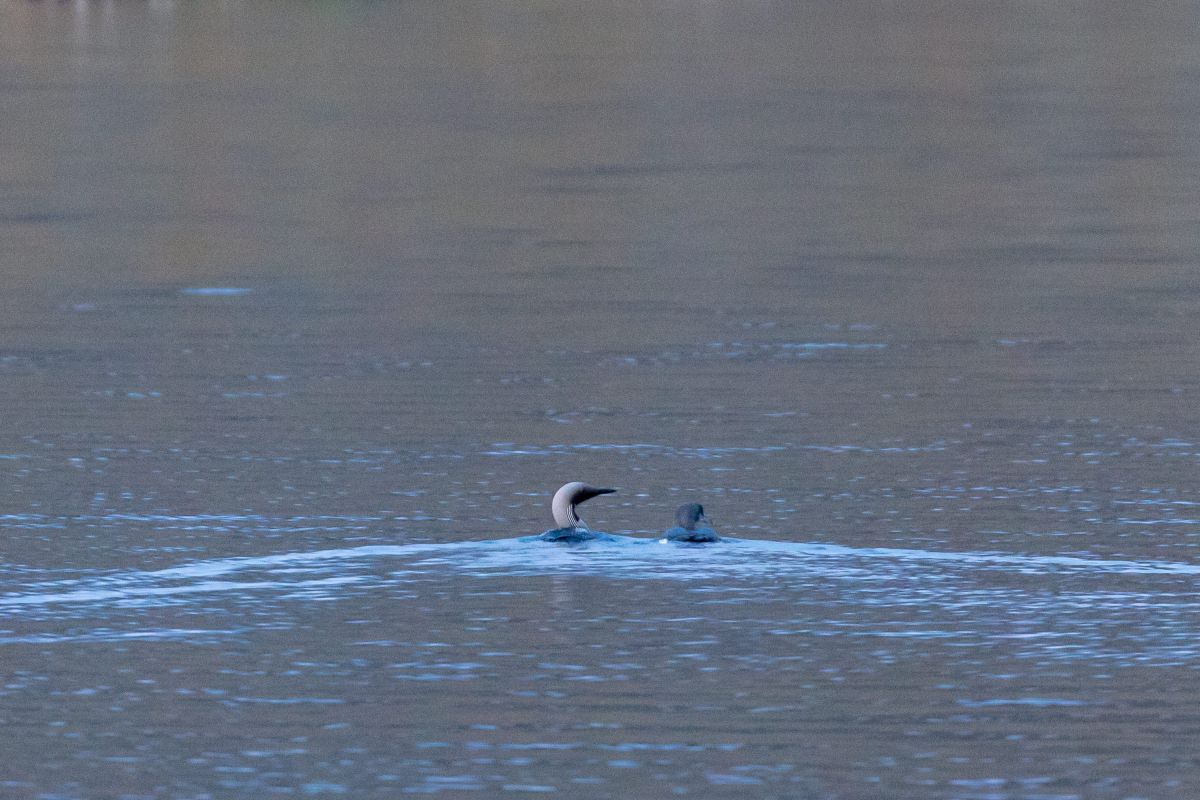 Tent was up and I got out of the rain. Time to relax as I waited out the rain. After about 40 minutes I heard some weird animal noises sounded like two mammals and not that far away. It was getting a little dark now but I thought I'd try and see what it was. Over the years friends of mine have seen both lynx and wolverine in this high mountain valley. The only living creatures I could see were these black-throated divers on the lake. So I'm assuming it was these birds but they did not sound like bird noises!
After this, I had some food and was hoping the clouds would clear. I was meaning to stay awake but I fell asleep. I did wake up at around midnight and thought that was foolish! But I got dressed and headed out of the tent to be greeted to this view
I could not believe my luck. My first aurora of the season and whilst wild camping at this location!
The aurora was quickly changing and then came down over Lapporten. So on my 6th year of coming here, I finally got a picture of the aurora over Lapporten whilst it was big in the frame (although the 14mm lens still shrinks the mountains)
Of course, now I realised where I needed to be. Back at the lake! I ran over and couldn't believe my double luck in had returned back to its mirror view!.
Then the aurora went into a position where I could get both mountains and the aurora reflected in Čuonjájávri. What a start to the season!
It's a very weird feeling when you are at these locations on your own during the night. In between those ancient mountains with aurora overhead in the middle of nowhere with weird animal noises (they were still happening). Both humbling and soul charging in one. The aurora dissipated and it was time to go to bed. I got up at 4:30 am (just before sunrise) and went for a walk but other than it being beautiful and serene I didn't see any photographic opportunities and went back to bed for a couple of hours.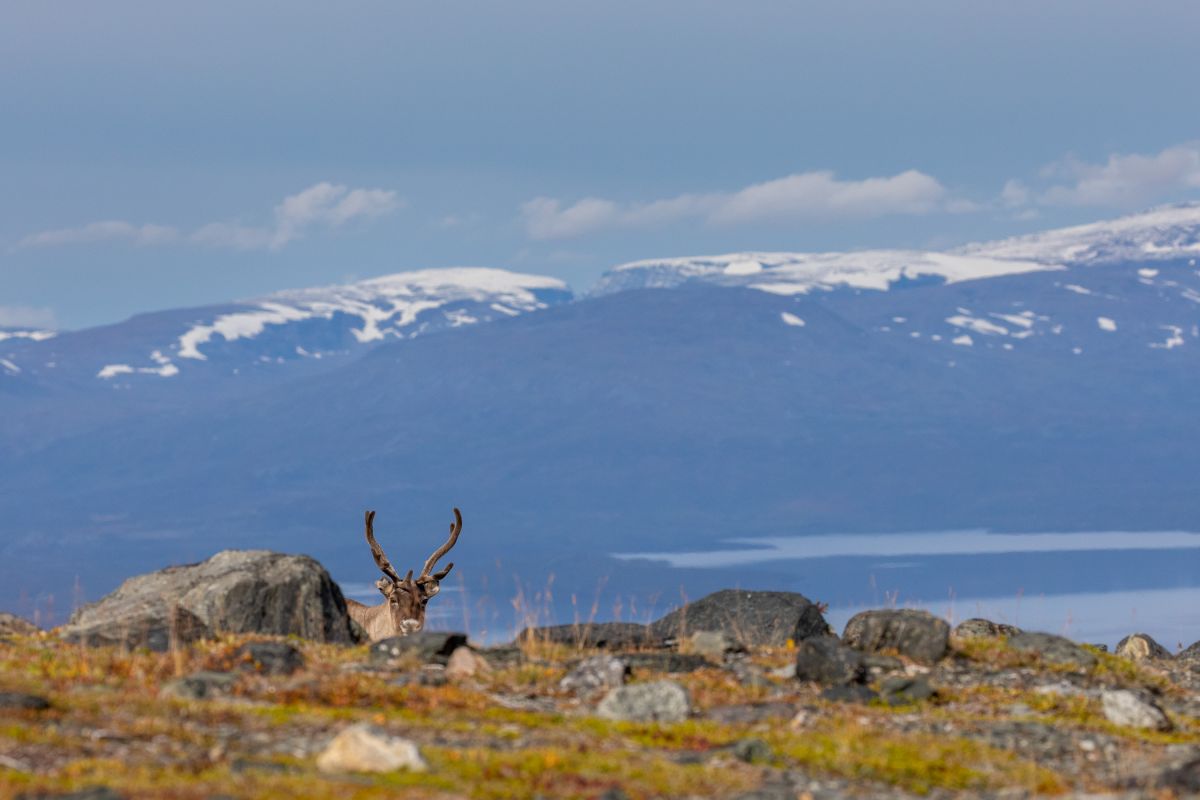 So time to pack up the camping kit and start the walk back towards Abisko. After about 40 minutes I had some reindeer eating around the trail so I backed off sat down and waited for them to move on past. To me surprise they actually came to me looking quite inquisitive.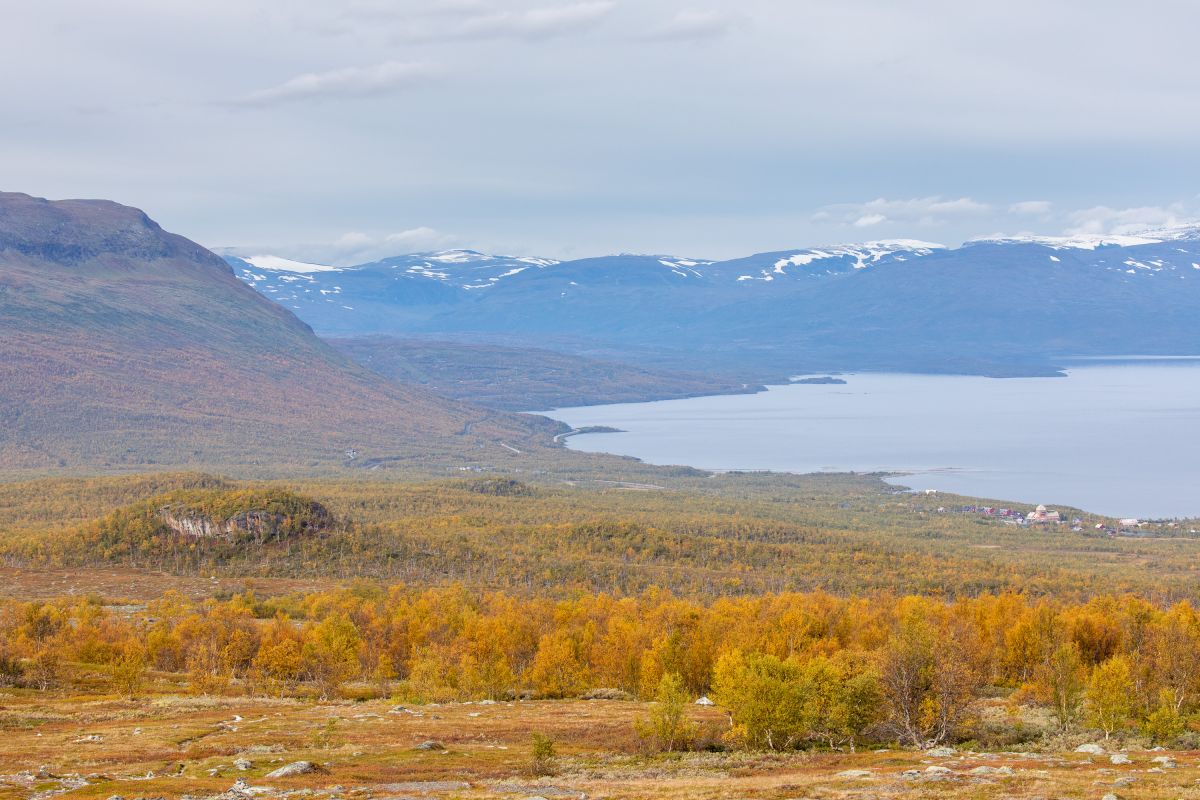 Further down the valley when I got back to the tree line I had this awesome view of Paddus, Abisko, and Torneträsk with Autumn colours.
Then it was a steady walk to the village as I kept seeing photographic opportunities on the route.
Well, I hoped you enjoyed the images. It truly was a fantastic two days. Tomorrow I'm going to head out and take advantage of the wonderful autumn colours which are nearly at peak now.
Any questions or feedback just let me know below.
All the best,
Oliver